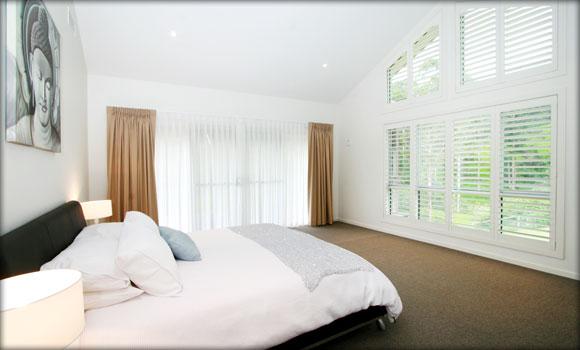 Care when using Whites
Whites are a fashionable colour at the moment both inside & out. Care has to be taken not to go too white. White straight from the tin is a no no for me. It's just too white for a start if you compare it with white tiles, white kitchen cabinets, white light switches etc. you will usually find that they are actually very light greys, they still look white but they do have some strength in colour.
If you were to use straight out white beside these your kitchen or tiles could look grey in comparison. The more colour you get into a white will give better cover strength for the paint & make the finished job look a lot more solid . Extremely light whites can take more coats & still not look quite right. Then trying to do maintenance by touching up marks becomes difficult with multiple coats needed to cover a mark.
If there are no other whites in tiles, kitchen etc. then it is much safer to go that bit darker because there is no white to show in comparison to that wall colour. The darker your floors & cabinetry the darker you can go on walls & they will still look white, remember colour is relative to its surroundings a mid-grey will look light in colour around darker colours but will look quite dark around light colours.
A good tip inside is to keep the ceilings the same colour as the walls & even the trim if going quite light this stops colour change like white ceilings to slightly tinted walls the comparison between the 2 shows the colour in the wall however if they are the same colour it will just look white or very close to it.
Outside we can go even darker, extreme light washes out colour dramatically to try & a achieve the same colour outside as inside you can just about double the strength. So whites can be quite grey looking on a chip but will still look white outside as long as there is no true whites around which is rare.
A Bathroom Painting Sequence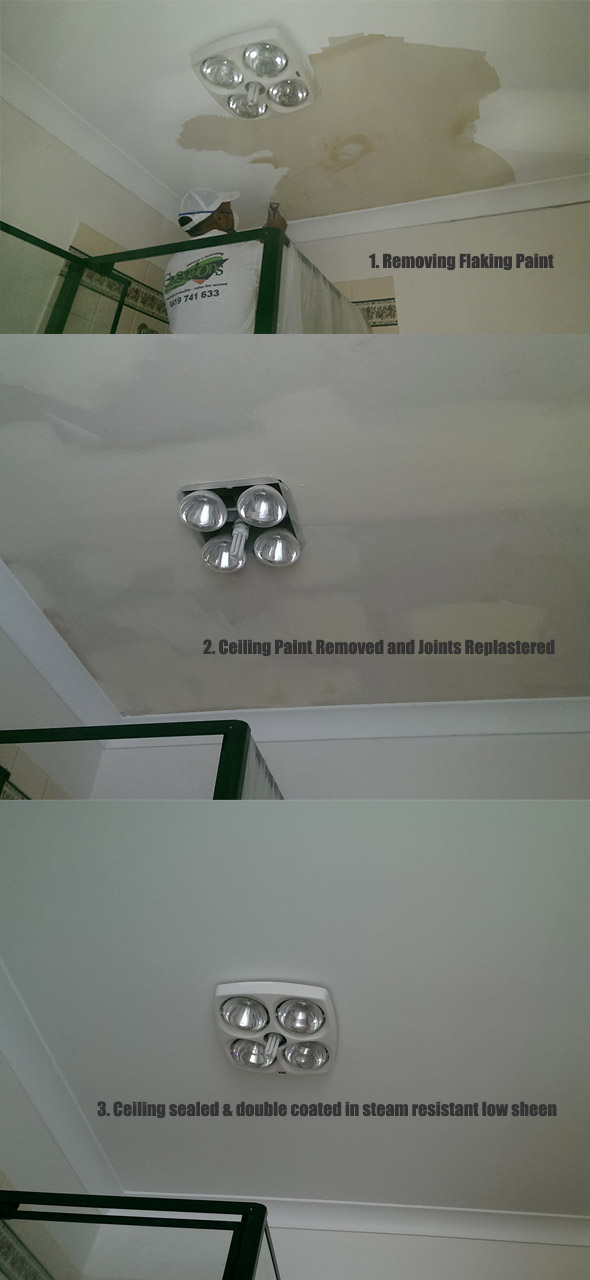 Try our short interactive on how to compare painting quotes Gold Coast
Other Articles
Sep 27, 2021 Timber Clear Coat Broken-down
Aug 20, 2021 Protecting your Floors when Painting
Sep 11, 2020 Door hinges should not be painted
May 25, 2020 Revitalising faded Colorbond Powdercoating
Mar 16, 2020 Painting your front door
Jan 16, 2020 How to Paint a Wall with a Roller
Sep 21, 2018 Repair Walls Gold Coast
Sep 3, 2018 Exterior Timber
Apr 24, 2017 Remodeling Your Home
Apr 7, 2017 Contemporary Design
Mar 17, 2017 House Painted at Southport
Jan 27, 2017 Psychology of Colour
Nov 25, 2016 Before After Beach House Tugun
Nov 13, 2016 Dulux Wash and Wear
Oct 14, 2016 Consider the Light
Aug 8, 2016 Caution with exterior colours
Aug 25, 2015 Value for Money Painting Quotes
Aug 19, 2015 Award Winning Home
May 27, 2015 Green Non Toxic Painters Southport Gold Coast
Apr 16, 2015 Taubmans Certified Painter
Mar 21, 2015 Non Toxic paints
Mar 3, 2015 Colour Consulting Gold Coast
Apr 4, 2014 Re-Painting Timber Doors
Jan 18, 2014 Tilt Slab Duplex Before After
Dec 17, 2013 A change of colour
Jun 6, 2011 Dennis Beck Reference
May 14, 2011 Paintwork for busy areas
Apr 26, 2011 Standing the test of time
Feb 27, 2011 New Environmentally Friendly Paints
May 23, 2009 The Recession & pricing
Aug 9, 2008 Gold Coast Commercial Paintwork
Jan 20, 2007 Feature wall example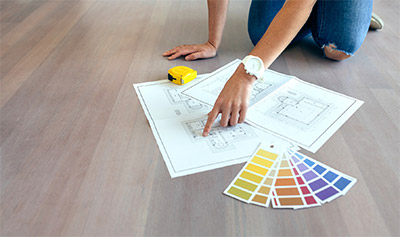 Request a Quote
Get a professional quote for your Paint Job.